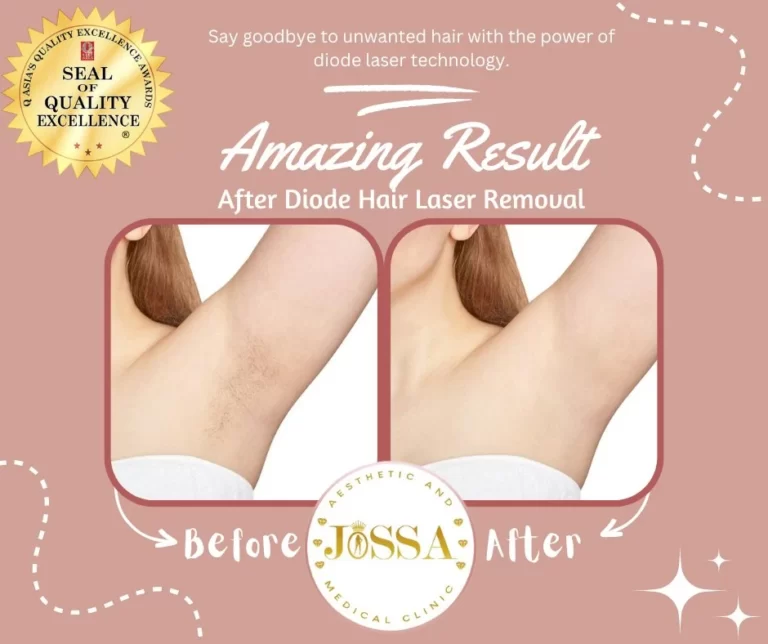 Achieve Smooth, Hair-Free Skin with Diode Laser Hair Removal Treatment
Remove unwanted hair while protecting the skin – the Diode Laser Hair Removal Treatment Way. Unlike traditional methods like shaving or waxing, which only remove hair at the surface, diode laser hair removal targets the root of the problem for more permanent results. It is proven effective and applicable to all skin types.
Frequently Asked Questions:
Q: Is diode laser hair removal safe?
A: Yes, diode laser hair removal is a safe and FDA-approved treatment when performed by trained professionals. The technology has been extensively researched and developed to ensure both effectiveness and safety.
Q: How long do the results last?
A: Diode laser hair removal offers long-lasting results. While individual experiences may vary, many clients enjoy significant hair reduction or even permanent hair removal after completing the recommended sessions. However, it's important to note that hormonal changes or other factors may trigger new hair growth over time. Periodic maintenance sessions may be needed to maintain optimal results.
Q: Does diode laser hair removal work on all hair colors?
A: Diode laser hair removal is most effective on darker hair colors, as the laser targets the pigment in the hair follicles. However, advancements in technology have made it possible to achieve satisfactory results on lighter hair colors as well. During your consultation, our specialists will assess your hair color and provide a realistic expectation of the treatment's effectiveness.
Why Choose Jossa Aesthetic and Medical Clinic for Diode Laser Hair Removal Treatment?

Expertise and Experience: Our team of highly skilled and trained professionals has extensive experience in performing diode laser hair removal treatments. You can trust that you are in capable hands throughout your journey.
State-of-the-Art Equipment:We only use the latest and most advanced diode laser technology, ensuring optimal results and client satisfaction. Our commitment to staying at the forefront of beauty technology sets us apart from the competition.
Personalized Treatment Plans:We understand that each individual is unique, and their hair removal needs may vary. That's why we offer personalized treatment plans tailored to your specific goals and concerns. Our experts will assess your skin and hair type and create a customized plan to deliver the best possible results.
Comfortable and Relaxing Environment:We strive to create a serene and welcoming atmosphere for our clients. Our clinic is designed to provide a comfortable and relaxing experience during your diode laser hair removal treatment.
Exceptional Customer Care:At Jossa Aesthetic and Medical Clinic, your satisfaction is our top priority. We are dedicated to providing excellent customer service and ensuring your experience with us is nothing short of exceptional.
Contact us today to schedule your consultation and take the first step towards a lifetime of smooth, silky skin.
Want to make booking or have a question?
Call us on 0991 412 3269 or simply contact us